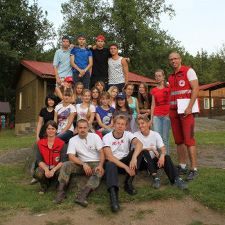 Hey, are you 18-24 year old and up for a unique experience this summer, specifically from July 21st till August 1st?! Our association, which has been organizing an international camp for 13-17 year old students from Russia (particularly far eastern parts like Kamchatka) in the Czech Republic, is looking for youngsters (we are looking for some volunteers) to help teaching kids English language.
You will experience all activities together with campers for free
Trips to Prague and Dresden, Germany
Accommodation and catering will be paid for you
You will also acquire 'survival' skills, including Outdoor First Aid Training which is provided by Czech Red Cross, Prague 1
During your stay in the camp, you can visit language seminars to study and improve your knowledge of Czech and Russian languages
At the end of our camp, you will receive a certificate of volunteer practice
If you are interested, want to participate in our summer camp and fulfil basic preconditions such as responsibility, pro-active behaviour and good mood, fill the application form on this site and send your CV to our e-mail peira@email.cz. First deadline for applications is 30. 4. 2019. Selection of volunteers will be done according to application forms, CVs and possibly even telephone interviews.